The main fields of activity of the company are the development, production, and marketing of high quality natural fish snacks.
EuroAsia GmbH, which has achieved a firm position on the German market within several years, is now offering its natural fish snacks in other European countries, for the sake of expanding its business and marketing activities, and the range of products.
We have already opened subsidiaries in Estonia and Poland as well as representative offices in China and Thailand. In the nearest future, we are planning to open subsidiaries in Great Britain and Poland. The natural fish snacks and products of EuroAsia GmbH are exported to Great Britain, Ireland, Holland, Greece, and other European countries. Owing to the carefully designed infrastructure, EuroAsia delivers its products diligently and accurately both to the cities and towns all around Germany and all over Europe.
Due to the ongoing development activities and the enhancement of the quality of the food products by means of innovative technologies, in accordance with the European standards, and also thanks to the implementation of state-of-the-art technologies, EuroAsia GmbH belongs to the range of the leading manufacturers of fish delicacies and products.
The Premium Qualität (top quality) mark on the packages with fish snacks guarantees to the end consumers that they have purchased the best and the freshest fish delicacies in the world.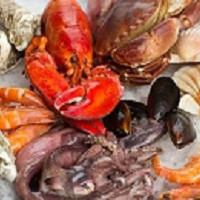 The snacks that 100% natural, healthy, and rich in protein!
We love high quality seafood. We are proud over the high standards implemented in the process of processing seafood, which are highly valued. EuroAsia GmbH was founded in 2003. Being a German company, we have adapted to the market of healthy seafood snacks, and are highly valued as a reliable supplier of fish snacks by our customers all over Europe.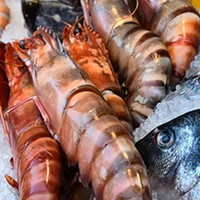 EuroAsia GmbH fish snacks & fish delicacies
We offer a wide range of fish snacks rich in protein. The development, production, and marketing of healthy and high quality fish snacks are at the core of our business. Being a specific product-oriented German company, we are dealing with the expansion of our business and range of products as well as with marketing promotion in Europe. We export our fish snacks to Great Britain, Ireland, Holland, Greece, and other European countries. The orders are delivered all over Europe fast and in due time. We check over the quality of our products with the help of innovative technologies and are trying to improve them in a regular basis. This is one of the main reasons why EuroAsia GmbH has become the leading manufacturer of fish delicacies and fish products among other wholesalers.
Healthy seafood snacks: sea delicacies that are rich in protein and are of the highest quality.
Healthy food is essential for the well-being of the people. Everyone is talking about LowCarb diets and giving up on carbohydrates in nutrition. In diets like that, carbohydrates are replaced with protein. Fish is healthy, delicious, and rich in protein, and fits in the healthy diet perfectly. We would like to introduce our new and exciting products to you. The people from many European countries are already in love with them due to their exquisite taste and a high protein content.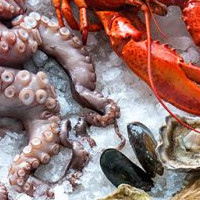 Small snacks for gourmets
Our seafood snacks are not only healthy, but are the real gourmet snacks that are can be served at a number a different events: as starters, at a party, or just as a light dinner snack at a gathering of family members or friends. Our snacks are delicious and healthy, rich in protein and Omega-3 fatty acids. They are especially useful for children, since while they are growing up, they need a lot of protein and Omega-3 fatty acids. The same is true about athletes, who also need a lot of protein, but at the same time, they need to keep track of the number of calories in the food that they eat. Our snacks are perfectly suitable for appeasing hunger and supply athletes with important proteins.
We produce healthy snacks that are rich in protein from the freshest seafood. All nutrients, vitamins, and minor nutrient elements are preserved in the products, owing to a very strict monitoring performed by our experts. We monitor the quality of our products on the ongoing basis, starting from the raw material and until they are being supplied to end consumers. In production, we use state-of-the-art equipment, innovative technologies, and unique recipes, in the result of which we manage to obtain gourmet products of the highest quality.
The raw materials used for making snacks is the freshest seafood from all over the world. A wide range of products offered by EuroAsia GmbH can satisfy the needs of even the most exacting customers.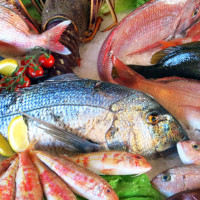 Supply system
In addition to healthy snacks, we also provide well-ordered supply system. Our supply network reaches many European countries. We supply seafood snacks within a very short term of delivery.
EuroAsia GmbH is a reliable partner that will deliver to you excellent high quality seafood snacks. Our company offers suitable delivery terms and conditions both to smaller and larger countries. We respect our customers and have established minimum supply amounts for the delivery of seafood snacks.
Taste our healthy seafood snacks today! Be a part of the natural, high quality gourmet experience, which is rich in protein.
Beuselstr. 44 n-q
10556 Berlin
Tel.: 030 – 394 04 981
Fax: 030 – 397 44 958
E-Mail: m.fayman@euroasiagmbh.com
Eibenweg 5
32457 Porta Westfalica
Tel.: 0571 – 385 27 79
Fax: 0571 – 385 28 18
E-Mail: d.finadeev@euroasiagmbh.com
Euroasia GmbH Eesti Filiaal
Punane str 73,
13617 Tallinn
Estland
Tel.: +372 565 9110
E-Mail:info.eesti@euroasia-gmbh.com
VINOL F.H.( Poland )
Polska, 10-693 Olsztyn
ul.Grota Roweckiego 29
As essay writing a beginning point, you need to read up on the topic in an effort to find out as much as possible about it prior to writing the paper.
Tel. +48 531-934-660
E-mail : sgeleta@gmail.com
Euroasia Nord OÜ
Punane tn 73 Tallinn Harjumaa 13619
Tel.: +372 565 9110
E-Mail:info.eesti@auroasia-gmbh.com
All of these are experts in their respective fields and their affordable papers exceptionally skilled services to assure you that you'll find the high marks you deserve – and earn all the recognition you need.